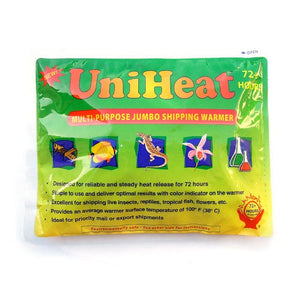 Rare Succulent-Shipping Heat Pack
72 hour Heat pack only is $6.99
72 hour Heat pack + USPS signature confirmation is $9.99
96 hour Heat pack only is $8.99
96 hour Heat pack + USPS signature confirmation is $11.99
Normally plants will be ok with heat pack even there's some delay with USPS, but they may get frozen sitting inside the mailbox after the delivery. Please add USPS signature confirmation if they may sit in the mailbox while the temperature is low. The driver will knock the door asking for the signature to deliver the package.
Long lasting shipping heat pack for succulent lovers.
They're air-activated, single-use, and environmentally safe for regular disposal.

We highly recommend to buy the heat pack in the winter.

We will try our best to ship your succies in cold weather, with this heat pack, the plants will be safe during those cold nights.
If you choose not to ship with the heat pack, that is fine by us, but we will not be responsible for loss or damage to the plants due to cold weather.