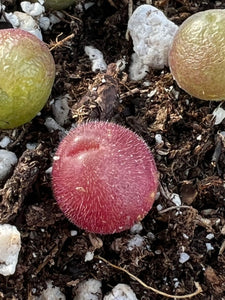 Rare Succulent - Gibbaeum pilosulum, 100% hand selected and ships from U.S.
You will receive one plant similar to the photo listed, shape and color might be slightly different.
If it has more heads, each head's size will be a little smaller.
Around 0.5cm for single head
After you receive it, bury the dry root part in soil. It will grow new root fast in MOIST(not soggy) soil.
Some plants will be cut and some soil will be removed for the safety of the plant during the shipment. The images on the listings are for REFERENCE purpose only. The pictures may be of different seasons/stages of growth and/or mass planted mature plants for landscaping vision. Please expect to plant your plants ASAP.